Complete Story

10/11/2019
032 Make It a Process…Key Elements of Sales Management
Presenter: Joseph Ellers
Date: Tuesday, March 10, 2020

Time: 8:00-11:30 am

Level of Complexity: Intermediate/Advanced
Course Description: The role of sales management has changed over the past 25 years from customer relationship management to the need for more focused, proactive sales effort. This course addresses the core elements of effective sales management, including a set of specific tools that can be implemented immediately. The participants will be challenged to develop a draft sales plan, during the class setting.
Learning Objectives:
Creating a sales plan that drives the desired activities
Moving to repeatable processes
Implementation of specific on-going management tools
Joe began his sales career in 1978 and sales management responsibilities in 1984. In his career, he has worked with manufacturers, reps, and distribution. His company, Palmetto Associates, has worked with over 1700 customers throughout the world. He has worked with many of the major trade associations and is a long-time faculty member with UID.
---
Bookstore
Pradip Krishnadevarajan, Senthil Gunasekaran, F. Barry Lawrence, Ph.D., Brijesh Rao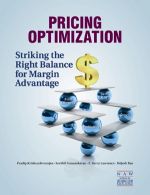 Forward-thinking wholesaler-distributors who strive for above-average returns in the "New Normal" by leveraging pricing optimization best practices that are rooted in sound analytics must read Pricing Optimization: Striking the Right Balance for Margin Advantage!