Complete Story

10/11/2019
036 Increasing Engagement & Motivation: Keys to Bridging the Intergenerational Divide
Presenter: Abram Walton, Ph.D.
Date: Tuesday, March 10, 2020

Time: 1:00-4:30 pm

Level of Complexity: Intermediate
Course Description: Effective talent recruitment, selection, and management requires leaders to move beyond mere stereotypical understandings of generational differences, and to create a bridge between the differences in communication and decision-making styles, training and development needs, conflict-resolution styles, and overall job expectations. This course will introduce intergenerational selection and management techniques including succession planning, mentoring courses, and using behaviorally anchored rating scales and interview questions.
Learning Objectives:
Understand how authentic and effective intergenerational leadership can increase workplace engagement and create competitive advantage by fostering of a culture of inclusiveness and collaboration
Understand sources of intergenerational conflict and identify successful conflict management strategies
Understand how to increase engagement & motivation across generations by focusing on recruitment, talent management, and what people what from their work
Abram is an author, consultant, and researcher specializing in Strategic Innovation, Human Capital Management, and Leadership Development with a focus on developing business models that create sustainable competitive advantage. He takes a unique systems-thinking approach, which has cultivated multi-disciplinary collaborations, generating innovative organizational strategies and best practices.
---
Bookstore
Jaynie L Smith
Research Proves Customers Value More than Just Price
Relevant Selling, the sequel to best-seller, Creating Competitive Advantage, challenges the all-too-familiar price issue. Many companies lament that price pressure has destroyed their margins – but when customers are surveyed in dou­ble-blind studies, we learn that more than 90% of the time, price is not the most important buying factor. This book will teach you how to uncover what is relevant to your market and stop caving in on price. Without relevance, successful negotiation is seriously hindered. More than Just Price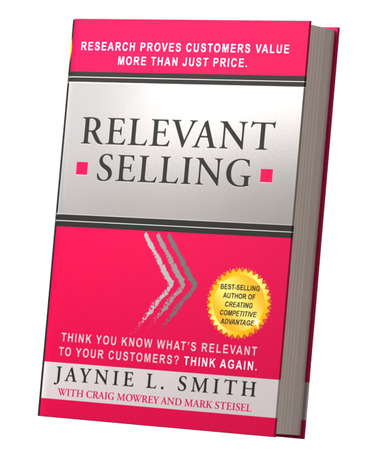 Differentiators are not competitive advantages if they are not relevant to the customer.
Companies must not only sell value, they must also sell what is specifically of value to the customer.
The majority of marketing and advertising efforts rely too heavily on creativity instead of relevance.
Relevant Selling shows you the importance of learning what is most relevant to your customers, your prospects and your different target markets, noting they almost always require tailored messaging to be relevant. You will learn how to obtain and use that valuable information.
Each chapter is loaded with actual case studies and research that demonstrates how companies achieve remarkable results when they sell what is relevant. Many companies are leaving profits on the table each day simply because they lack the research described in this book.

Buy Now