Complete Story

10/11/2019
045 INNOVATE! How to Create Relevancy in the Age of Rapid Change
Presenter: Dirk Beveridge
Date: Wednesday, March 11, 2020

Time: 8:00-11:30 am

Level of Complexity: Intermediate
Course Description: Beveridge's research for the NAW's Institute for Distribution Excellence discovered that 76% of leaders throughout distribution believe we are living in an environment we could call the Age of Disruption. And in this age of disruption, 85% feel they need to reinvent their business before someone else does. But as you continue to operate the business for today, how can you unleash the spirit of innovation to build a relevant, stronger, and more profitable future? In this inspiring and research-based course, you will explore The Innovative Distributor™ framework that provides a practical model for creating transformative and innovative change.
Learning Objectives:
Construct a vision that becomes a unifying force for change
Develop a culture of innovation and excellence
Distinguish your business through an innovative value proposition
Examine your business model relevance
Identify your leadership readiness along the spectrum of distributors
Dirk is the leading advocate of change and innovation throughout wholesale distribution. He delivers a new voice, a new energy, and a new outlook. He founded UnleashWD in 2012 after he noticed the trend of innovation bypassing wholesalers and distributors. UnleashWD is now setting a bold agenda for the 300,000 distributors in the country.
---
Bookstore
Skip Weisman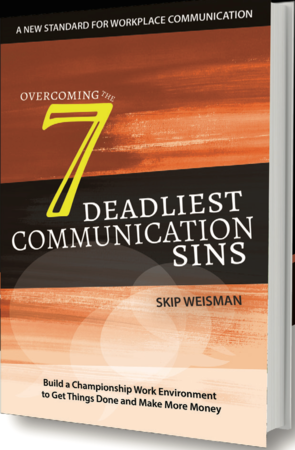 Communication is the cause of every success, failure and frustration. Don't you think it's vital to get it right? Just because we've been communicating since we were in our mother's wombs you think you know how to communicate.
This book will show you where you're getting it right and where you're missing the mark. You will learn the seven most common and most damaging communication mistakes that lead to endless workplace drama, toxic work environments, low accountability, poor attitudes and poor performance individually and organizationally. These communication mistakes are at the core of your employee retention issues, if you are struggling with them in this low unemployment economy.